All Linux operating systems with Google Earth 6: I'm very sad to see that this fonts fix doesn't work with Google Earth 6. If you find some other Google Earth ugly fonts workaround please write here so we could once again look at Google Earth with nice smooth fonts. Thanks in advance.
These are the instructions for script attached to this post. It'll download Google Earth from Google servers (if it hasn't been already installed) and tie it to the systems QT files.
Default Google Earth installation flaws
Your distributions QT files are generally newer than those provided by Google Earth
Google Earth fonts doesn't fit in quite well in standard Gnome and KDE interfaces because Google Earth's QT files are not tweaked to your distribution looks.
You have no control over Google Earth's GUI fonts properties. You can't tweak fonts using your distribution's tools like "qtconfig-qt4" because mentioned program have influence only over your distributions QT libraries.
By using this script to install Google Earth you can lead Google Earth to forget its old QT libraries and to use your distributions QT libraries.
On the lower picture you can see part of Google Earth's interface in Ubuntu distribution with and without this script.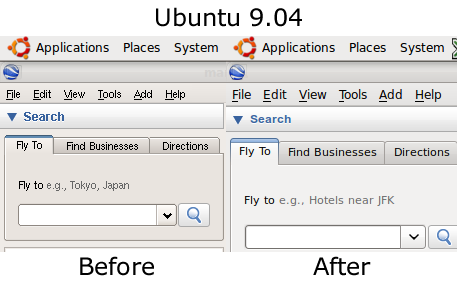 Supported distributions and architectures for v0.3:
All i686 Ubuntu distributions (including Ubuntu 10.04 Lucid Lynx 32-bit)
All i686 Linux Mint distributions (including Linux Mint 9 Isadora 32-bit)
Supported distributions and architectures for v0.2:
Ubuntu 9.04 (Jaunty Jackalope) i686
Ubuntu 9.04 (Jaunty Jackalope) x86_64
Fedora 11 (Leonidas) i686
Linux Mint 7 (Gloria) i686
Linux Mint 7 (Gloria) x86_64
This script can be only started on a supported Linux distribution. If your distribution isn't supported there is hope. If you open the script in your favorite text editor and if you have some knowledge of Linux commands you can easily spot the procedure for this fix. If you don't have required knowledge you can ask here and I will try to add support if I have enough spare time.
How to start this script?
Download the script and unpack it to your desktop.
Make the script executable by issuing this command's on the terminal: chmod +x google-earth-fonts-v0.3.sh
Start the script with the superuser privileges. In Ubuntu you would type: sudo ./google-earth-fonts-v0.3.sh
If you use google-earth-fonts-v0.2 don't forget to adapt commands accordingly.
This script has been tested on supported distributions but there's always the possibility of last-minute error. If there's something wrong with the script please comment so I could fix it, or feel free to fix it yourself and to notify me so I could include your fix here on this blog.
List of changes:
v0.3 - I rewrote this old script. Now it supports all 32-bit Ubuntu and Linux Mint distributions. There is no 64-bit support in this baby, will be when I find time in the future. (For)
v0.2 - Few small errors fixed, support for Linux Mint 7 (i686 and x86_64). Note: 64 bit version is not tested but it should work because Mint is Ubuntu under the hood.
v0.1 - Initial release.
HERE's the v0.3 of the script!
HERE's the v0.2 of the script!
Enjoy!