There are computer displays out there without any OSD buttons. No, really. I have one of those. So how do you say turn the brightness up? No problem, u have a software with buttons and sliders to control every aspect of you computer display. Collection of protocols to make such application is called Display Data Channel(DDC). On Linux PC you really have only one option, Ddccontrol application and its GUI variant named Gddcontrol...
Just to mention that this ddccontrol isn't maintained since 2006 or so. Very unfortunate situation, but for now it works just fine but only with root privileges.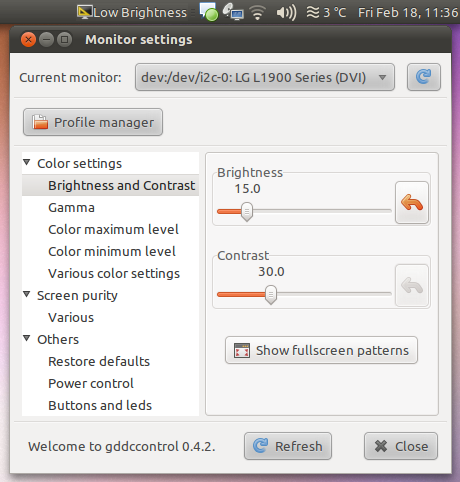 Drawback to this approach is that you loose gddccontrol panel applet because applets are not started as root. Lets remedy this situation. Gddccontrol can talk to your graphics adapter in two ways. First way is directly and you need to be root to do that. Second more attractive way is trough i2c-dev kernel module. Now you see where this is going, huh? We will install this kernel module from repositories, and make Gddcontrol work as non-root user.
First things first, lets install gddccontrol and i2c-dev kernel module:
sudo apt-get install gddccontrol i2c-tools
Now we must add ourselves to the "i2c" user group by issuing this command:
Next thing is to add i2c-kernel module to be run at bootup:
sudo /bin/sh -c 'echo i2c-dev >> /etc/modules'
Now restart your PC. After it boots, you can run Gddcontrol without being root (without gksu), and you can add Gddcontrol applet to your panel. Default Gddcontrol launcher uses gksu to launch Gddcontrol with root privileges. You should change this launcher by removing gksu from the launch command field in menu editor (right click to Applications and choose Edit Menus, then select Preferences -> Monitor Settings and click Properties on the right side of this dialog).
Please report here if something i wrote doesn't work. I'll try to resolve your problem to the best of my abilities.