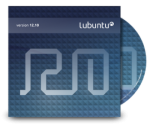 This is that time of the year when Cannonical drops its autumn Linux based operating system package on our desks. I will not waste my keyboard buttons on the latest Ubuntu image because I believe I wrote everything in one of my previous encounters with Unity (like this one and this one). Instead I'll review the latest Lubuntu 12.10 Quantal Quetzal featuring LXDE environment on top of Linux 3.5 kernel.
Introduction
My experiences with Ubuntu and its derivatives from 11.04 Natty Narwhal and up were disastrous not only due to Unity interface I really dislike, it's also due to bugs to other core packages that maintaining Canonical's own chunk of code like Unity has brought. Even If I forget about Unity for a second, every Ubuntu version for the last two years has had some outstanding bug affecting one of my machines serious enough to make that Ubuntu version unusable. Because of that experiences I was a bit skeptical about Lubuntu 12.10 Quantal Quetzal, but I've tried to be fair and give it a chance. For this review I've used 64 bit flavor of Lubuntu 12.10.
Installer
Lubuntu (or any Ubuntu derivative) installer hasn't changed much for a while now. All options you are familiar with are still there. The only surprise was that for some reason installer froze every time right after install upgrades and non free software checkboxes screen. I've figured out that loosing Internet connectivity during installation made that problem go away and made installation go smoothly.
Desktop
Lubuntu's LXDE desktop is a bit less flexible than this old Gnome 2 user is used to but also fast and dead simple. I will not make many comments about Lubuntu 12.10 Quantal Quetzal desktop appearance. I tend to do work using my computer instead of sitting in front of it and admiring the latest curves from Cannonical's workshop. That's probably why Unity interface and I don't get along so well. Generally I like my desktop functional and LXDE desktop from Lubuntu is just that.
Software
Somehow it feels wrong for me to count as cons the fact that Lubuntu's default software selection substantially differs from my own perfect software selection. Users use what they're accustomed to, and we can't possibly expect distribution developers to read our mind and preinstall exact software selection we like. This is especially true when you remember that most applications are free, open source and just a click away from your desktop. By default Lubuntu gives you Chromium 22 browser, Sylpheed e-mail client, Audacious and Gnome Media Player for media and Abiword and Gnumeric for your text and spreadsheet needs. Other software I use like LAMP stack for web development, Eclipse and Netbeans work great with bundled OpenJDK (open source Java Development Kit) and I haven't encountered any problems there.
Important to note is that interface to install proprietary drivers like NVIDIA or AMD graphics card drivers has moved from Jockey ("Hardware Drivers" application) to "Additional Drivers" tab inside software sources screen.
The core of Lubuntu 12.10 operating system is Linux 3.5 kernel that did its job fine on all of my machines. Some bugs with my Logitech E3500 webcam are unfortunately still there.
Bugs, Bugs and Bugs
Like any other operating system Ubuntu 12.10 comes with it's own selection of bugs and quirks but for Lubuntu 12.10 there aren't many. To begin with my HP CQ56 notebook wireless enable/disable button has stopped working. It looks like a bug with rfkill package but I'll look into that in the future. Also I've noticed that my Netbeans has tendency to freeze when used with Oracle Java 6 packages created using my regular procedure. I can't directly relate this to underlying operating system because it might be Netbeans or Oracle Java bug, but it hasn't happened on my trustworthy Ubuntu 10.04 operating system.
Besides Logitech webcam bug I've already mentioned I can point out that NVIDIA proprietary driver sets my fonts DPI value correctly for my display, but too low for my taste what makes my screen fonts tiny. Because LXDE doesn't include interface for changing fonts DPI value, to remedy that problem I had to specify DPI values manually inside xorg.conf to force standard DPI value of 96. Again this isn't actually a bug in Lubuntu 12.10.
Verdict
Lubuntu 12.10 is definitely operating system I could use to get my work done. In my opinion this is the man idea operating system developers should have in mind when creating their design (picking software packages if we talk about Linux based operating systems) and Lubuntu 12.10 does this great. If you're tired of Canonical and Gnome 3 guys efforts to reinvent the wheel you should install Lubuntu 12.10 and get on with your life. On the other side if you're looking for something exciting to show to your colleagues and class mates, you should probably think twice. Unfortunately not many people these days value simplicity that Lubuntu and LXDE combination brings to your PC.